Halloween is absolutely one of my FAVORITE holidays and to celebrate I pulled together the creative minds of some of my talented blogging friends to bring you over 110 fabulous Halloween ideas! From costumes to parties, crafts and home decor, recipes and free printables, we have so many fun ideas to share! I guarantee you'll find a project (or 10!) that you would love to incorporate into your Halloween festivities.
All week (Monday through Saturday) myself and my blogging friends will be sharing our fun creations with all of you. Each day will include approximately 20 Halloween projects and you can "hop" from one blog to another to check them all out!!
I decided to knock out an easy decor piece that I can hang on to for years to come and it literally took minutes to finish, my DIY Sharpie Pumpkin!
During a recent trip to my local craft store, I decided to grab a few fake pumpkins to play with. When I was checking out at the register I saw a package of metallic sharpies in different colors and I pretty much had my mind made up what I wanted to do with the black pumpkin.
Materials:
Fake Pumpkin
Metallic Sharpies
Instructions:
1. Wipe off dirt from pumpkin.
2. Color stem in Metallic Sharpie Color of choice.
3.  Rotating the color choice on the Metallic Sharpies, I mentally divided the pumpkins into sections, where the lines were. I opted to make bigger sections than smaller, so that I wouldn't be working longer and having to squeeze in more.
4. Spinning all the way around, this was finished while my littles sat around finishing homework.
Easy.As.Pumpkin.Pie
Are you ready for lots more creative Halloween ideas and projects??
Come participate in our blog hop! Simply click on each of the links below, for the Halloween projects you'd like to see in more detail and it'll take you right to that post with additional information and photos on how to create it. Have fun and pin away!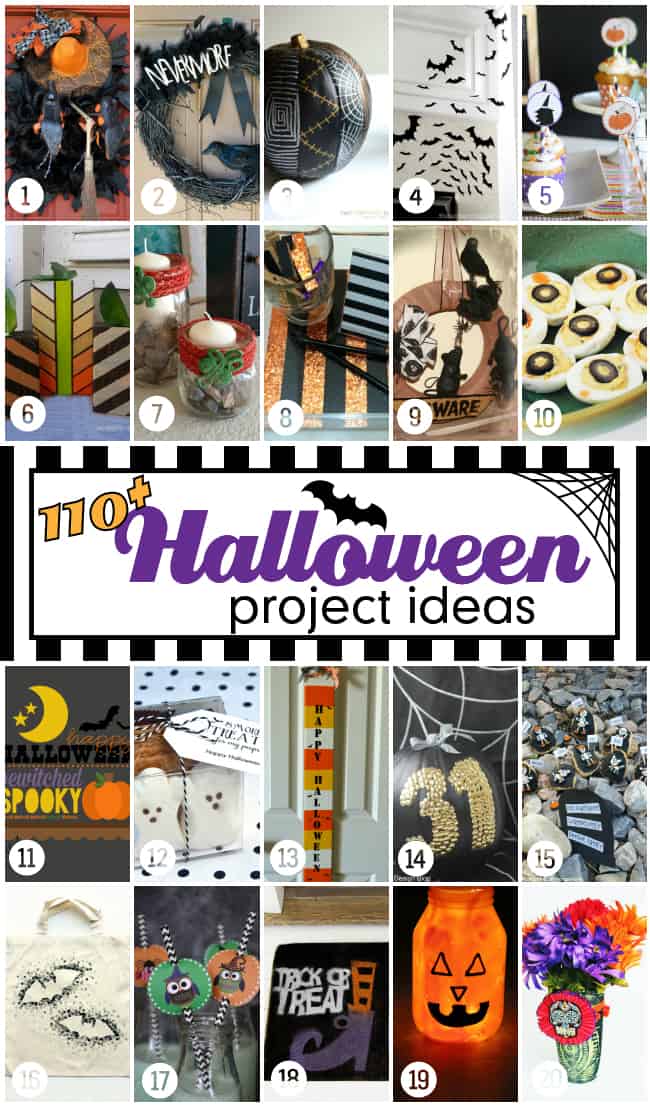 1. Halloween Witch Crashing Decoration
2. Quoth the Raven, "Nevermore" Wreath
3. DIY Sharpie Pumpkin
4. Flying Bat Silhouettes
5. Halloween Cupcake Wrappers & Toppers
6. Easy Geometric Wooden Pumpkins
7. DIY and DYE Autumn Burlap Jar Candles
8. Easy DIY Halloween Tray
9. CreepyCritter Halloween Wreath
10. Blood Shot Paleo Deviled Eggs Eyeballs
11. Free Halloween Subway Art Printable
12. S'more Treats
13. Candy Corn Halloween Sign
14. Thumb Tack Pumpkin
15. Halloween Fun Decorating Sugar Cookies
16. Eraser-Stamped Trick-or-Treat Bag
17. Free Printable – Halloween Gift Tags
18. DIY Halloween Trick or Treat Door Mat
19. Pumpkin Mason Jar Luminary
20. Dia De Los Muertos Flower Vase
Follow our Fabulous Halloween Ideas Pinterest board for even more inspiration!
Follow Design Dazzle's board Fabulous Halloween Ideas on Pinterest.
Thanks to all 110+ fabulous bloggers participating! We'd love for you to visit their blogs and see what else they're up to!